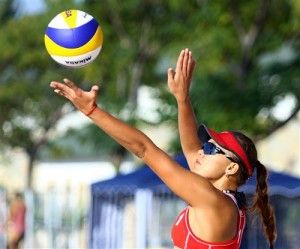 Women can play in this Turkey´s Beach Volley competition for the first time in its history, the three previous editions were in 1996, 1997 and 1998 but these were only for men.
The first Match began at 9 am (local hour) and faced Slovak Lubica Siposova and Lucia Behunova against the Czech Karolina Rehácková and Magdalena Dostalova. Another four pairs debuted at this time, Kazakh Bakhtygul Samalikova with Yekaterina Lassyuta against Slovak Tina Turnerova with Silvia Poszmikova, and German  Lisa Arnholdt with Nadja Glenzke against Russian Alexandra Moiseeva with Anastasia Barsuk. The qualification round ends today at 14 pm (local hour).
Men starts to play the Qualification Round, tomorrow in the morning. Between the contenders to be champions, we find two spanish pairs: Francisco Tomás with Cesar Menéndez and Francisco Marco with Christian García. We want to send our best wishes for our boys ¡Come on champs!